Home | About us | Materials | Galleries | Links | Contact us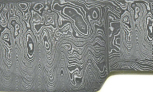 Bladesmith.co.uk - hand forged swords and knives by Barry Scott.

The image galleries:

I wanted a cross-section of examples to represent the variety of work I have done over the years.
This was a minefield though, since longbows and arrows, swords, spears, knives for field sports, military and survival/bushcraft use, not to mention various items of armour and jewellery were all possible inclusions to the galleries.
I decided to solve this dilemma by including examples of pretty much everything !
Enter the gallery, and have fun...